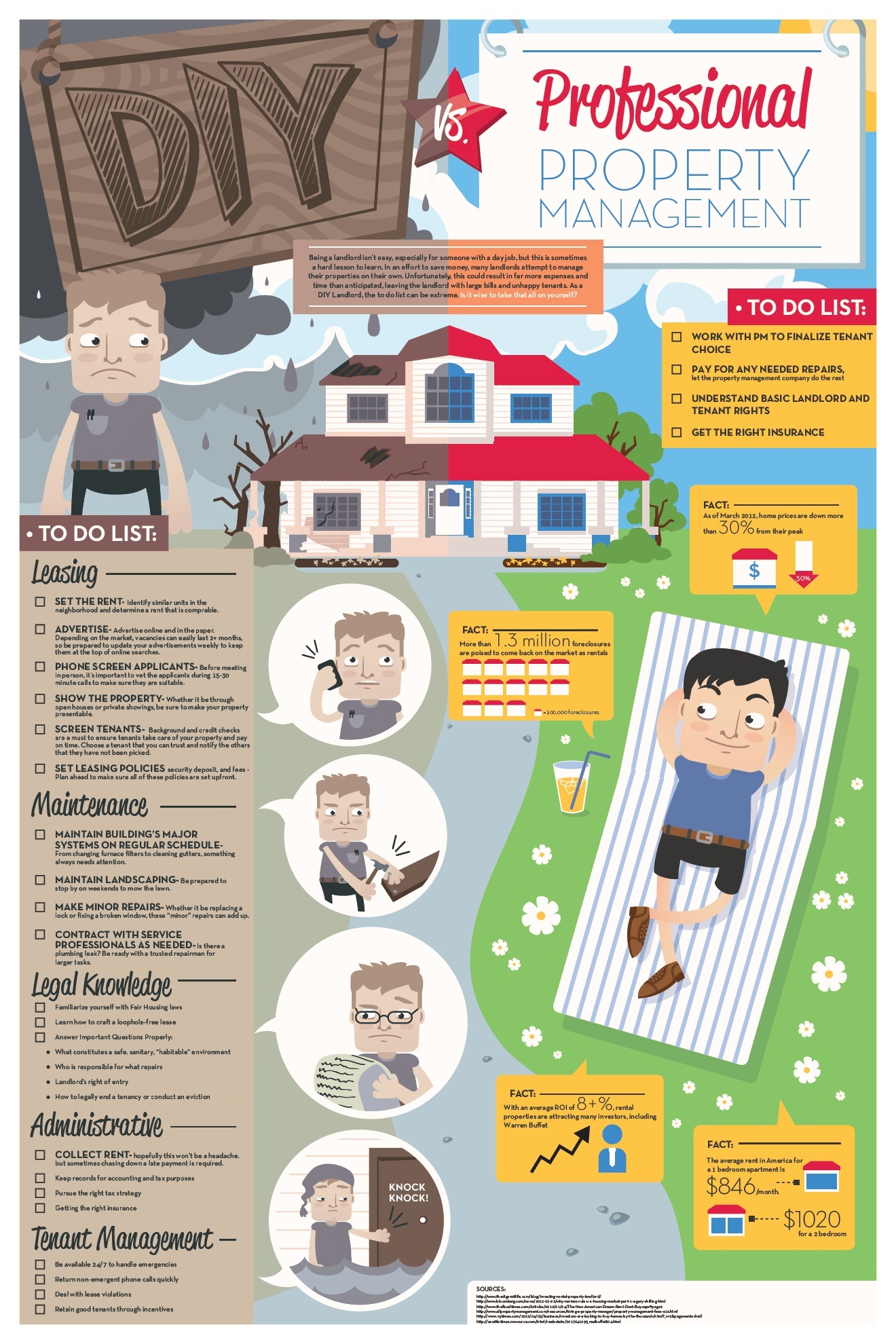 Have the time and resources to show property, properly screen tenants, and handle midnight plumbing calls? We can often cover the cost of property management by simply increasing the rental price to market rates.
Top 10 Reasons to Hire a Property Manager Instead of DIY
Before you decide to manage rental property yourself, there are several factors that you should consider. If you've owned rental property for any length of time, you understand some of the pitfalls that come with trying to handle the property without the help of a professional. Mostly importantly, you will need to determine if you have the necessary time, knowledge, and resources to effectively manage the property. A competent property manager can add significant value to your investment, which is why many seasoned real estate investors will tell you that a good management company is worth their weight in gold.
First, if you are unsure of what all is involved with property management, I would encourage you to browse our website to find out exactly what all is involved with managing rental property. Specifically, you will need to check out the What We Do as Your Greenville Property Manager section.
Normally, professional property management will cost a few dollars a day, or the cost of a fancy cup of coffee. It's up to you to decide if a cup of coffee is worth your time to not have to deal with tenants, toilets, and trash. Below is a list of some critical tasks a property manager can help you with.
Setting the Correct Rental Price: Owners typically don't have the resources to accurately assess the everchanging Greenville rental market. Most owners will price the property way too low because they fear that the house will sit vacant, which ends up costing thousands of dollars. The other alternative is the owner that prices the property too high, prolonging the inevitable and costing thousands of dollars that will never be recouped.
Marketing and Advertising Your Property: The days of placing an ad in the local newspaper and hoping for the best are long gone. An experienced property manager will know exactly where to market your property to maximize the amount of exposure. Unless you have the resources to post your listing on 50+ popular rental sites, and you have access to MLS, then I would suggest you leave the marketing to a professional.
Taking Calls and Showing Your Rental Property: Very few property owners have the time to take leasing calls and answer the same questions over and over again. The industry standard for converting a tenant is around 1-2%. This means that you will likely have to talk to 100 prospects before you get an acceptable tenant. Furthermore, most owners don't have the time to show the property to prospective tenants when it is convenient to the prospects. Unless you are available to show the property 12 hours a day, every day, then you should rely on a property manager. Only showing the property when it is convenient to the homeowner will typically eliminate at least 75% of potential prospects.
Finding the Right Tenants: Tenant screening is without a doubt, the most critical aspect of having a successful property management experience. We have all seen how poorly renting to friends and family can turn out. Do you want to be the one to have to evict a non-paying family member, or would you rather rely on an expert property manager to select your tenants and handle evictions? Experienced property managers are experts at finding good tenants, and will take care of all the details, including criminal background and security checks, running credit reports, verifying employment, and collecting previous landlord references.
Managing Tenants: In addition to finding good tenants, a property management company will collect rent and manage all aspects of the tenant-landlord relationship. The property manager will handle both routine and emergency maintenance, inspect the property routinely, and manage any situations where conflict resolution is required. Basically, landlords need to be available to tenants 24/7.
Managing Vendor Relationships: Property management companies have relationships with maintenance workers, tradesmen, contractors, suppliers, and vendors that it's almost impossible for an independent landlord to duplicate. Not only will your property manager get you the best work for the best price, they'll oversee any necessary maintenance projects. We typically save our owners around 40% on maintenance costs by the vendor relationships we have built.
Ensuring That You're in Compliance with Housing Regulations and Property Laws: There are a multitude of applicable laws and regulations to abide by when renting and maintaining your rental property. These include local, state and federal regulations, as well as Fair Housing regulations (such as the ADA) and the Fair Credit Reporting Act. A property manager can help you avoid lawsuits by keeping your property up-to-date and in compliance with these regulations.
Accounting and Record Keeping: If you are ever audited, you will need to have all the proper documentation for rents received, invoices paid, etc. Unless you are using cloud-based software, maintaining all accounting records and copies of invoices in one place will prove to be nearly impossible. A professional property manager will provide simple and easy to read monthly accounting statements and all necessary year end statements needed to file your taxes. A property manager will also be able to maintain accurate records on all tenant related charges and receipts. Our software sends a daily email reminder to any tenant with a past due balance.
Evictions: Many owners will continue to work with a non-paying tenant and the next thing you know, they are 6 months behind in rent. A good property manager will never let a tenant get over a month behind in rent no matter how many promises are made. The eviction process can be complicated and time consuming, especially if going to court is required. Work with a professional that is knowledgeable in not only the eviction laws, but also the games that tenants play to take advantage of landlords.
Maximizing the Profitability of Your Time and Your Money: By having a property manager take care of the day-to-day aspects of running your income property, your free to spend your time identifying further investment opportunities or otherwise furthering your career. Most property managers charge a percentage of your property's monthly rental rate in exchange for their services. In addition to maximizing your rental rates, a good property manager will also save you substantial money on repairs. Likewise, a good property manager will save you significant money on vacancy costs and turnover costs.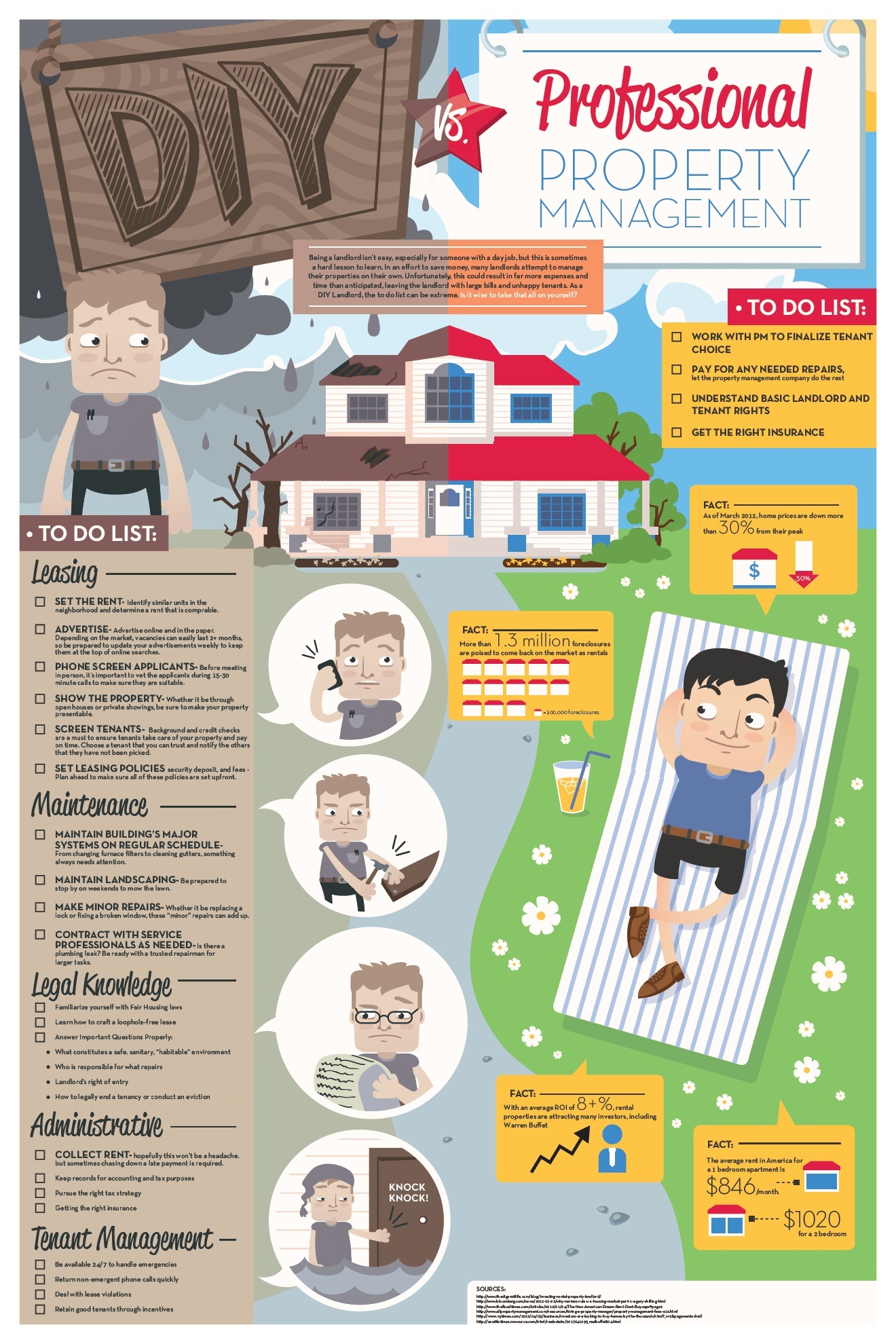 Photo credit All Property Management